Published on Wednesday, January 22, 2020 by Kathy McCabe
A researcher at Scotland's University of St. Andrews has found the oldest known city drawing of Venice,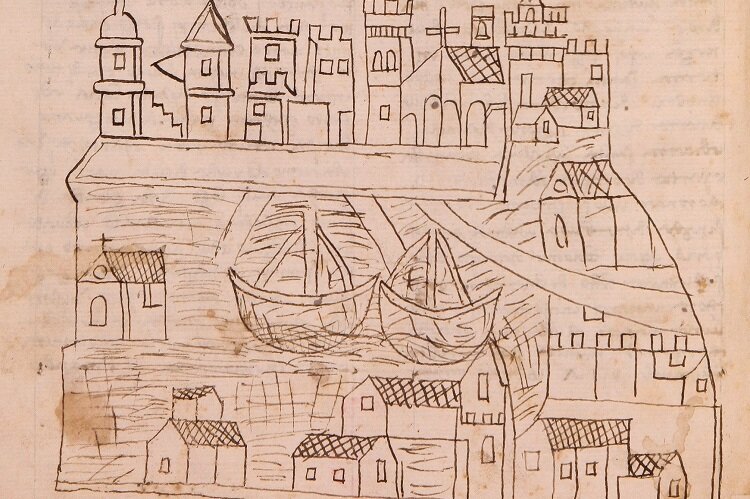 a sketch from the 14th century. The scholar, Dr. Sandra Toffolo, specializes in Venetian Renaissance history and was conducting research at the National Central Library of Florence when she stumbled upon the drawing in May 2019.
The drawing is by Niccolò da Poggibonsi, an Italian pilgrim, and was found in a travel journal that he wrote about his trip from Italy to Jerusalem from 1346 to 1350. Da Poggibonsi passed through Venice on his pilgrimage, and likely drew the image upon returning to Italy in 1350. The pen drawing is accompanied by his description of Venice.
Dr. Toffolo said, "The presence of these pinpricks is a strong indication that this city view was copied. Indeed, there are several images in manuscripts and early printed books that are clearly based on the image in the manuscript in Florence."
Pinpricks were a method of copying images during the Renaissance: Powder would be sifted through the tiny holes onto another piece of paper or other medium, copying the image's outlines onto that surface. Since she found the image, Dr. Toffolo has verified its accuracy by comparing it to other manuscripts and documents.
The image is the oldest known drawing of Venice, not including maps and portolan charts; the oldest known map of Venice was created by a Franciscan friar from Venice, Fra Paolino, around 1330.
"The discovery of this city view has great consequences for our knowledge of depictions of Venice, since it shows that the city of Venice already from a very early period held a great fascination for contemporaries," said Dr. Toffolo.
By Kathy McCabe
Photo: Biblioteca Nazionale Centrale Florence