Published on Friday, March 4, 2011 by Daniel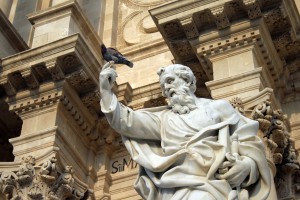 Are you one of those travelers setting off to Italy this summer? Then, you are sure to have an exciting vacation in this beautiful foreign land. However, a trip to Italy couldn't be as easy as you might think if you don't know anything about the local culture and traditions. Know about Italian food habits, the best mode of transport, and much more to savor every moment of your holiday without trouble. Here are some of them to look at before your start on your trip to Italy.
• Italian cuisine doesn't end with just pastas, pizzas, Chianti wine, and tiramisus. This beautiful country comprises of a number of independent regions, each of which has its own unique cuisine. So, don't look for just 'Italian food'; discover the local delicacies too! For instance, while visiting Abruzzo, you must taste the popular polenta. It is a dish made from boiled cornmeal and is often served with a hearty meat sauce.
• Most Italians pay in cash right from their morning coffee to evening dinner. This Italian custom will be a bit strange for most of us who are used to paying with their plastics. So, carry a bit more extra cash than usual to stay away from troubles. However, most hotels and train stations accept cards.
• After your meal is placed, you'll not get to see your waiter until you're fully finished. The bill will also not be sent to your table until you ask for one. It's not bad manners anyway; the waiter is allowing you to enjoy your meal absolutely. Leave just a few Euros as tips; Italians are like that.
• Stay at a three star hotel if you want to complete luxury. Two-star hotels in Italy will be very basic.
• Train travel is considered the best. However, walking will be all the more enjoyable for short distances as you'll be able to discover some beautiful sceneries down the trail.
• When it comes to shopping, look for leather goods, jewelry, paper products, and ceramics. You will get the best here.
Make a reservation with PerilloTours.com to travel around Italy without difficulty.