Published on Friday, July 15, 2011 by Kathy McCabe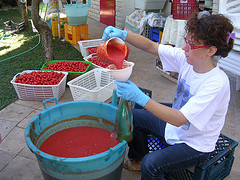 So you think you've eaten well in Italy? Suspend all judgment until you've visited the region of  Puglia, where the Mediterranean sun waves its magic wand to produce a true bounty of magnificent, flavorful gifts. Here are some examples of the fresh ingredients Puglia produces and how they combine in simple, yet mouth-watering ways:
Olive oil: The ancient  olive trees of Puglia are startling and must be 50 times the size of the trees in Tuscany with trunks several feet in diameter and radiating and twisted branches that can sometimes make them resemble people, although scary ones at that. Puglia produces one-third of Italy's olive oil and as with most regions, this "green gold" is the staple for almost every dish. The locals also eat plenty of olives — yellow, green and black, served salted or in water or lime water.
Veggies: Because vegetables are so abundant, they are the main ingredients for so many Pugliese dishes. Each part of Puglia grows something special. There's lettuce from Polignano, artichokes from Trinitapoli and celery from Monte Sant'Angelo. Tons of eggplant and tomatoes grow here, providing the ingredients for wonderful sun-dried tomatoes and melanzane alla campagnola (roasted eggplant drenched in olive oil and seasonings). Plenty of vegetables grow wild, such as fennel and chicory. Lampascioni, local seasonal onions served boiled or fried, can be found in the wild as well.
Pasta: With such an immense production of durum wheat, it's no wonder that Pugliesi have pasta with almost every meal. The local pasta is orecchiette, named for and shaped like little ears. Traditional chefs make it by rolling out pasta dough, tearing off small pieces and making a thumb print in each piece. The most popular way to serve it is with broccoli rabe or with cauliflower and grated ricotta cheese.
Meat and Fish: The influence of Puglia's former rulers is evident in the region's food. Like the Greeks, Pugliesi eat plenty of lamb, usually roasted on a spit-fire with plenty of herbs. They even have a form of haggis; gnummerieddi is made by stuffing a lamb gut with herbs and garlic and grilling it over an open fire. There's little beef or pork consumed in Puglia. Much to the dismay to Americans, horsemeat is very popular here. If you want to try it, order braciole di cavallo, horsemeat steaks cooked in tomato sauce. With such an expansive coastline, Puglia offers an array of fish and seafood, including cuttlefish, lobster, octopus, anchovies, eels, sea urchins, shellfish, mussels, mullet, squid and tuna. Zuppe di pesce, fish soup, is a popular dish allowing locals to combine their fresh catches.
By Kathy McCabe
Photo by Massimo Bruno, flickr.com

Taking your first trip to Italy? Learn everything you need to know when you get your FREE copy of The First Timer's Guide to Italy by ItalyTravel.com contributor Kathy McCabe.
Ready to plan your Italy vacation? Perillo Tours has been leading group trips throughout Italy since 1945 and ItalyVacations.com can custom design an independent itinerary for your dream Italy vacation!