Published on Tuesday, August 28, 2012 by Steve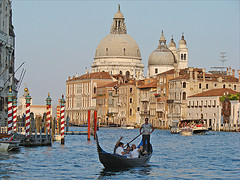 Yesterday, I told you about our new Italy food and wine tour and today, I'd like to  tell you about another tour I've personally designed… (Gee, they sure keep me busy around here!) Named after the great Italian explorer Marco Polo, our 10-Day Marco Polo Tour navigates the very best of the cities of Venice, Florence and Rome. 
Save $500 per couple when you join our October 28th or November 11th departure. Use the secret password:  MANGIA and book with deposit by September 15th and you're on your way to Italy and savings.
Plus have I told you how magnificent Italy is in the fall? The weather's still nice, the light is perfect, the crowds are gone…I think I just might join you! Seriously, Marco Polo offers some of my favorite Italian experiences – an up-close look at the production of Murano glass in Venice, our own private Tuscan vineyard tour and tasting and a serious look at the treasures of the Vatican Museums.
 Oh, and Marco Polo gives you free time in each city. My dog Harry doesn't want you to miss Harry's Bar in Venice.
Grab your hunger for exploration and call your travel agent or Perillo at 1-800-431-1515 to book your Marco Polo Tour. Remember to use the secret password:  MANGIA for savings on the October 28th or November 11th departures.
Photo by dalbera, flickr.com