Published on Tuesday, December 3, 2013 by Kathy McCabe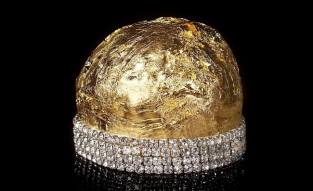 The most popular Christmas dessert in Italy is panettone, a tall cake made from flour, sugar, milk, eggs, fruit and raisins. You will see these for sale in every food shop in Italy throughout the holiday season. One type of panettone you won't find everywhere is a gold-and-diamond version commissioned by a Russian businessman.
Pastry chef Dario Hartvig, owner of the Pasticceria del Borgo in Carmagnola, near Turin was tasked with baking a delicious panettone topped with edible gold leaf and ringed with a crown of diamonds. Any guesses as to how much it cost? 80,000 euros (over $100,000)! For those who can't quite afford that price tag, Hartvig also produces an 800-euro panettone with gold leaf and Swarovski crystals.
Or you can just spend a few bucks and get the traditional panettone!
Buon Natale!
Ready to travel to Italy? Perillo Tours has been leading group trips throughout Italy since 1945 and ItalyVacations.com can custom design an independent itinerary for your dream Italy vacation!
Taking your first trip to Italy soon? Learn everything you need to know when you get your FREE copy of The First Timer's Guide to Italy by ItalyTravel.com contributor Kathy McCabe